Although Alabama's unemployment rate rose in December from November, the number of people employed reached an all-time high, the governor's office said today.
Alabama's interim seasonally adjusted unemployment rate for December was 2.8%, up from 2.7% in November. The rate a year ago in December was 3.1%. Last month's rate represents 63,412 unemployed.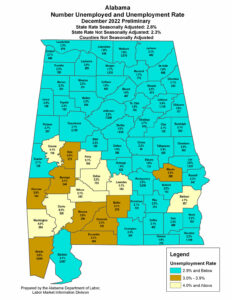 "Concluding our 2022 economic coverage, I am pleased to say that Alabama has recovered well from the pandemic and has maintained positive momentum throughout the year," said Gov. Kay Ivey. "We broke records all year reminding everyone that Alabama is the best place to live, work and start a business. Our wages have risen, jobs are plentiful and growing, and we are seeing some of the highest employment numbers in key sectors in more than a decade.
"I couldn't be prouder of the progress we've made."
Last year wage and salary employment rose from 55,900 to a record 2,120,500 workers.
In education and healthcare there was an increase of 15,400. The professional and business services sector saw an increase of 12,700 and the government sector grew by 8,600, the report said.
Payroll employment rose 300 in December, with gains in the trade, transport, utilities, government and construction sectors.
"Our economy supports more jobs than ever before, adding nearly 56,000 jobs since last year," said Alabama Secretary of Labor Fitzgerald Washington. "This translates to job growth of 2.7% for the year, which, barring the immediate recovery from the pandemic, is one of the highest job growth rates in more than 20 years.
"We also have record employment in the trade, transportation and utilities sectors, and since 2008 more people are working in manufacturing and construction."
The trade, transport and utilities sector has a record number of 411,700 employees.
Manufacturing is at its highest level since December 2008, employing 272,900 people, while construction is at its highest level since November 2008, employing 104,900 people.
The counties with the lowest unemployment rates are Shelby County at 1.5%, Cullman County at 1.6%, and Morgan and Marshall counties at 1.7%.
The counties with the highest unemployment rates are: Wilcox County at 9.1%, Clarke County at 6.6% and Dallas County at 5.3%.
Major cities with the lowest unemployment rates are Vestavia Hills and Homewood at 1.3%, Trussville, Madison, Hoover and Alabaster at 1.4%, and Athens and Northport at 1.7%.
Major cities with the highest unemployment rates are: Selma at 6.3%, Prichard at 5.2% and Bessemer at 3.5%.
Austen Shipley is a senior editor at Yellowhammer News.
Do not miss! Subscribe today to get Alabama's leading headlines delivered to your inbox.