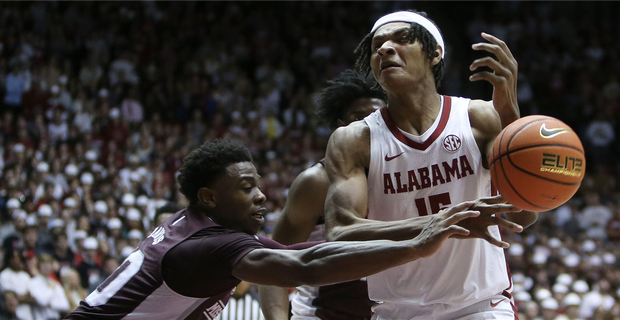 TUSCALOOSA, Ala. – The Alabama men's basketball team avoided an upset Wednesday night by beating Mississippi State 66-63 at the Coleman Coliseum. It extended the Crimson Tide's winning streak to nine games and improved the team's record to 8–0 in league games.
But it was the first time Alabama hadn't won a game by double digits in over a month.
The Tide (18-2, 8-0 SEC) didn't have its best night of shooting the ball, finishing 5-to-28 from the 3-point line, and every time it seemed to eliminate the deficit the Bulldogs are going to neutralize the home team's runs and extend their lead — at least late into the second half of the game.
Down 36-29 at halftime and up to 11 points in the contest, Alabama rebounded in the final 20 minutes to win the game, a feat head coach Nate Oats credited his team.
"It's not an easy game," Oats said. "We have to gather our energy. It's disappointing that we had to pick it up. It should just be there from the start. But we picked it up and found a way to win. If you want to win an SEC championship, you have to win some games where you don't play your best. We found a way to win."
The Crimson Tide received strong second halves from guard Jahvon Quinerly and forward Noah Clowney, who combined for 19 points after the half. Alabama took its first lead of the game after a Rylan Griffen three-pointer at the 9:19 mark, and State narrowly led by 51:48 at the U8 media timeout. From there, the Tide led by as much as eight points, outscoring the Bulldogs 18-10 over the next six minutes before Noah Gurley blocked State's final shot.
Alabama walked away with a win, continuing their impressive run since losing to Gonzaga in mid-December. Oats shared what he thinks his players should take away from a challenging narrow win.
"You have to be ready to go through the gate," Oats said. "We record blue collar points. They had doubled us in the first two Four Minute Wars. I felt we didn't play hard enough. Mississippi State played harder than us early in the game. So if you don't play hard enough and they get stopped on offense, start struggling a little. I think when your defense is great you just lose yourself in the game and your offense is easier to get some lighter buckets in transition. So this kind of composed.
"I thought we played a lot harder in the second half. The beginning of the half wasn't that great offensively. I think we lost four turnovers in the first four minutes. But I thought we would play harder. And we ended up playing hard enough, getting enough stops, coming out in transition, having some transition buckets, having some lighter looks, offense started to flow a little bit more.
Before Wednesday's game, Alabama had won its first SEC games, averaging 21 points per contest. The head coach discussed fighting complacency at Tuesday's game preview against MSU, and after the hard-fought win, he was asked if he enjoyed a rare close win like the one in Tuscaloosa — one that would suit UA in the future could prove beneficial line.
"Not happy with the effort for 40 minutes, not happy with a lot of things in the game," Oats said. "But as a staff you sometimes have to learn how to win a tight game and you can't achieve that in practice. We did end-of-game situations. I said to the guys, 'We've got to do some late-game stuff. We won't be able to blow everyone by more than 20 points. That's not how it works in the SEC game.' We have worked on this in practice.
"However, there is no way to mimic real game situations. I thought we did a good job going down 10 in the second half, going back and getting the lead we got. I don't think we did a good job closing it. It was an 8-point lead with about three minutes to go and it's down to three at the end. To be honest, I thought we could have done a better job with some of these late-game things, even at the last minute.
"But it's good to have gotten into those situations and figure out how to win. We got some decent stops. They scored a couple of goals but we'll learn from that and hopefully get better because it certainly won't be the last close game we have."
Did you know that BOL has a podcast? The BamaOnLine podcast brings you the latest Alabama news and insights from Travis Reier, Charlie Potter, Hank South and Tim Watts. Watch the latest episode exactly here or subscribe on iTunes today!
Contact Charlie Potter via personal message or on Twitter (@Charlie_Potter).