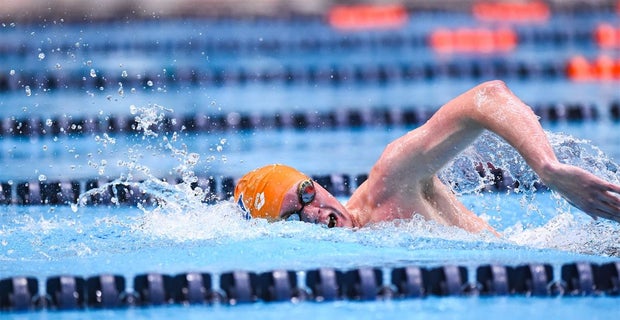 AUBURN, Alabama — Led by Mason Mathias' school record in the 1000-meter freestyle and Auburn's No. 9 men's swim and dive team swamped the No. 15 Alabama 184-116 at the James E. Martin Aquatic Center on Friday.
Mason's record was set when he finished the night's first individual race with a time of 8:51/45.
"That was great," said Auburn coach Ryan Wochomurka. It was a record from Zane Grothe, our volunteer assistant, and he counted the laps for him. Zane did a great job with our distance group, helping them understand how to level up and take themselves to another level. Mason has done a great job on that. He's really kept improving and that's encouraging of him at the moment.
The No. 13 Auburn women narrowly lost 155-145 to No. 8 Alabama.
Auburn's men started strong as Aidan Stoffle, Reid Mikuta, Nate Stoffle and Kalle Makinen won the 200 medley relay.
In the 100 breaststroke, Junior Reid Mikuta, who has the nation's fastest time and the school record, placed first with a time of 51.55. Mikuta was second in the 200cc, with teammate Jacques Rathle third just behind.
The closest race of the meet was in the 200 Fly. Evan McInerny won it. Mathias and Rusty Jerger hit the wall in third and fourth respectively.
Aidan Stoffle got his third win of the year in the 100 fly with a time of 46.75. Nate would be third.
Newcomer Kalle Makinen won the 50 Free, with Logan Tirheimer and Mihalis Deliyiannis taking third and fourth.
In the women's event, Polina Nevmovenko led an Auburn sweep in the 200 free with a personal best of 1:46.21. Rebekah Hamilton and Payton Marvin weren't too far behind, earning the first win of the day for the Tigers.
Auburn record holder Anastasia Makarova claimed her fourth win of the season in the 100m breaststroke.
On the 200 fly, Meghan Lee's 1:56.45 was a personal best and the 10th best in Auburn history. Casey Cullen and Abby Gibbons finished second and third, respectively, and Avery Bargeron finished fourth for the women's second sweep.
"We fought really well on both sides today," said Wochomurka. "It's certainly a disappointing result for the women, but it wasn't because of a lack of effort. It wasn't the execution. We did our best and that's all you can ask for.
"I'm looking forward to our men getting a win and I'm looking forward to where we are now, even with a month to go before the SEC Championships. We'll see her again in a month and at the NCAA championships. I can't say enough about the incredible setting that was here today. With our fans and students filling the house, that was a huge benefit for us."