Our volunteers presented a Bible to Annie Pearl Avery after working in her home.
Volunteers are helping in Jesus name as injured homeowners begin to recover from deadly storms.

US Disaster Relief
013622
give me
The Jan. 12 storm system that rattled the home of 79-year-old Annie Pearl Avery spawned dozens of deadly tornadoes that ripped off roofs and uprooted trees in the Southeast. Numerous communities and hundreds of homes were left in ruins.
Annie said surviving the EF-2 tornado that swept through her neighborhood in Selma, Alabama, was a terrifying experience.
"Glass flew – it seemed like some kind of bomb was about to explode. It shook the whole house," said the resilient Selma resident, recounting that January night.
She'd known the storm was coming, and as it got closer, Annie put on her hard hat and grabbed her portable radio. She sat in her bathroom and waited, listening through the walls and also through the radio, which described the path of the tornado – it was heading towards her street.
REGISTER FOR VOLUNTEERS: ALABAMA | GEORGIA
Everything around her shook, and then, just like that, the sound and shaking were gone. She slowly stepped outside to check.
"Part of my porch was up in the tree," she said. "It just hung there and then I looked at the neighbor's house across the street – totally torn down."
Samaritan's Purse responds in two places
Annie's was just one of several Selma neighborhoods Twister landed in that night. Samaritan's Purse quickly dispatched two disaster relief units—trucks loaded with supplies and tools: one to Selma and one to Griffin, Georgia. Nearly 300 volunteers have been covering roofs with tarps, clearing debris and removing trees in both states since Sunday, January 15 in Jesus' name.
Annie was one of the first people we helped. Her garage had also collapsed and a large tree had fallen on her roof. Even after seeing that, she did what many Selma residents did after the storm — she checked on her neighbors.
Then she climbed into her old white pickup truck and went in search of water to drink to feed the others on her street. We also met her in her pickup truck because that's where she slept until the day someone in town mentioned Samaritan's Purse and she called us. Then she started knocking on doors to tell her neighbors.
"I said to myself, 'I could use these people and my neighbors could need them,'" she said.
Supporting a civil rights activist on MLK Day
On the Saturday night after the storm, Tommy Smith, a member of the site leadership team who has served with Samaritan's Purse for 19 years, heard from Annie. His heart broke when he heard she was sleeping in her pickup truck – he couldn't wait to take her back to his house. On Sunday morning, Tommy led a group of experienced Samaritan's Purse volunteers, who were ready with chainsaws to begin cutting down the monstrous trees in front of Annie's house.
When Annie came to her house the next day and saw all the volunteers, she said, "I'm crazy about them [the volunteers]. I couldn't believe it, but I was just so happy to see her."
Many volunteers stopped occasionally to sit and listen to Annie's wonderful life stories. She was a dedicated advocate of the civil rights movement and cared deeply about those around her. Among her most profound experiences was taking part in the historic Selma to Montgomery march in March 1965, which included the tragic events of Bloody Sunday on the Edmund Pettis Bridge. Tommy said, "I could have spent all day just listening to her — it was special."
As Tommy presented Annie with a Bible, he shared how honored he was to serve her in Selma, especially on Martin Luther King Jr. Day, which is celebrated on January 16 this year. He went on to say that it's not about the volunteers or anyone else: "Everything we do is not to glorify anyone here, just to glorify Jesus."
As Tommy and the volunteers gathered around Annie to pray, many from the neighboring houses rushed across the street to join. All over Selma, large, spontaneous prayer groups have sprung up at our construction sites. "Sometimes it's like a revival," said Paul Ishman, a disaster relief worker with Samaritan's Purse. "I'll be a different person when I leave here because I've seen something that's absolutely miraculous to me — to see God change."
"God Will Get the Glory"
Shortly after the storm passed, Clifford Hunter drove back home to Selma. He was in disbelief at what he saw. "It was like someone had just dropped a bomb that went off here in Selma."
Clifford heard about Samaritan's Purse from a friend and he was sure that God had sent this group to him.
"I knew this was the group I needed for me," he said. "This is the person I want to work with. This is the one I want to help me with."
Clifford is a strong believer and he knew God's protection was on his house. He was filled with joy to know that the Samaritan's Purse volunteers who were restoring his property were doing it to the glory of God.
"It's just so heartfelt," he said, speaking of the volunteers. "I am so thankful for Samaritan's Purse. It really is me and the work they do and the love they show in the process."
Just as Annie loved her neighbors, Clifford also testified to the unity he saw in Selma after the storm.
"To see people from all walks of life and from everywhere coming together to make a difference in someone else's life – people they don't even know – it means so much."
Clifford smiled broadly and said, "And to see how God works about it – God will get the glory of it."
Please pray for families affected by the deadly storms in the Southeast and for our volunteers serving in both Alabama and Georgia in the name of Jesus.
SUPPORT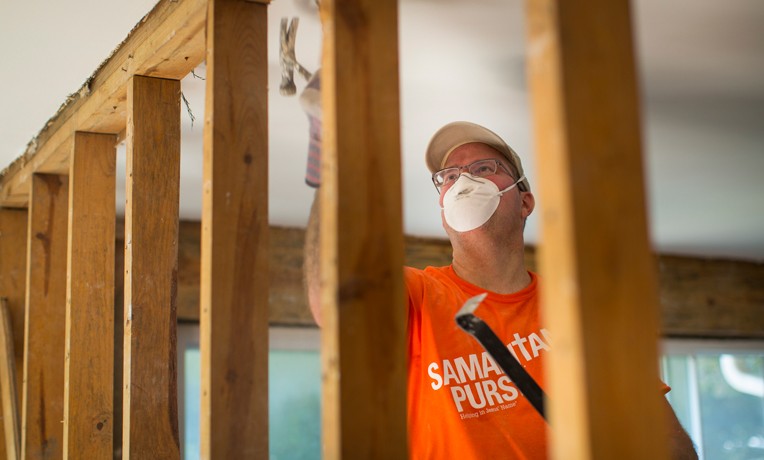 US Disaster Relief
Samaritan's Purse mobilizes and equips thousands of volunteers to provide emergency relief to US victims of wildfires, floods, tornadoes, hurricanes and other natural disasters. After major storms, we often stay behind to rebuild homes for people who have nowhere else to find help.
---
US Disaster Relief 013622
$