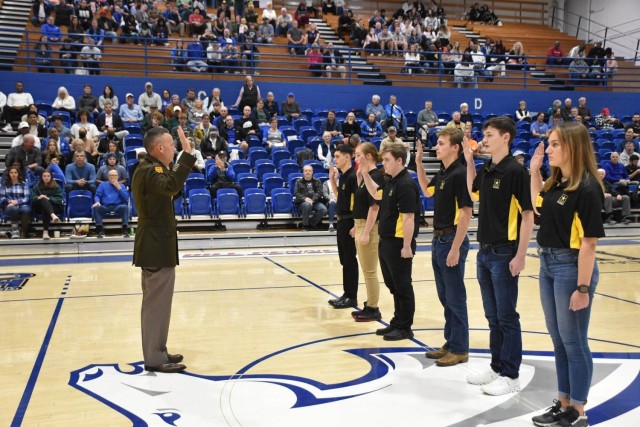 HUNTSVILLE, Alabama – Surrounded by nearly 2,000 cheering Chargers basketball fans, six would-be soldiers took their oath of enlistment Jan. 21 during Huntsville Military Appreciation Night at the University of Alabama.
The six raised their right hands in the center of Kelly Court and repeated the oath taken by Lt. Gen. Daniel L. Karbler, the commanding general of the US Army's Space and Missile Defense Command.
"These six men and women represent the future of our army," Karbler said. "They go to jobs like infantry, helicopter repair, medic, vehicle maintenance and chemical-biological, nuclear."
With more than 200 opportunities to serve as a soldier, including careers in science, aerospace, cybersecurity, combat troops and law, Karbler said these future soldiers are taking full advantage of what the Army has to offer.
"It gives me great pleasure to bring her into the army," he said.
The call-up ceremony took place at halftime in a game that saw the UAH Chargers battle Gulf South Conference rivals the West Alabama Tigers.
Though the Chargers ultimately fell to the Tigers 72-57, the loss couldn't dampen the recruits' excitement.
"The ceremony was really good and I'm glad our families were able to see it," said future Soldier McKenna Griffith.
Griffith, a Priceville High School senior, said her father served in the military and she's wanted to join since seventh grade.
"I've always wanted to do something in the medical field, but I've always been drawn to the military," she says. "When I found out I could be a paramedic it stuck, and I've been preparing for it ever since."
Griffith goes to basic training in June.
Military service also runs in the family of future soldier Anoki Klemp. Klemp's grandfather and grandmother both served in the military.
"Everything about the army sounds amazing to me," he said. "It's a dream come true. "Not only can I travel, have fun and get paid for it, but I can serve my country at the same time."
Klemp, a Gadsden High School senior, said he found his calling in the army.
"Even as a child I wanted to be a scientist," he says. "When they told me I could play with chemicals in the army and get paid for it, I couldn't refuse."
Klemp goes to basic training in May.
UAH and the Association of the United States Army sponsored the Military Appreciation Night. Karbler thanked the organizations for the opportunity to recognize service members and their families.
"You make Huntsville such a great community," he said.