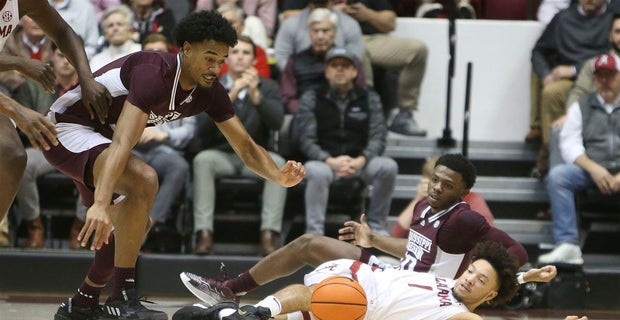 Mississippi State held No. 2 Alabama for a tightrope walk at the Coleman Coliseum Wednesday night. But the Bulldogs didn't finish the stretch, dropping a 66-63 decision.
The Bulldogs had one of their better performances of the year but fell to 12-8 overall and 1-7 in the SEC. The Tide improved to 18-2 overall and remained undefeated in the SEC at an 8-0 mark.
Jahvon Quinerly led Alabama with 14 points Noah Cloney and Brandon Miller Everyone had 13. Tolu Smith led state with 15 points and seven boards and Dashawn Davis had 14 DJ Jeffries added nine points and seven rebounds while William McNair contributed eight from the bench.
"Just hard to swallow," said the Mississippi State head coach Chris Jans. "Obviously we were in control for most of the game. They passed us and I like how we reacted. I thought that was a good sign. We just need to knock down more 3s. We talked about that before the game, more to shoot and do more, I didn't think we shot enough tonight.
"Just disappointed. We had an opportunity to get a big win for this team and this program against a team that is having a great season."
State shot 46% on the night and made 3 of 15 from behind the arc. The Bulldogs were 8 of 12 at the Stripe while Alabama was 19 of 22. The Bulldogs held Alabama with 37% shooting overall and 5-of-28 from 3-point territory. Alabama overtook the Bulldogs 36-33 and outscored the state 22-9 in points after turnovers.
With a seven-half lead, State extended the lead to eight in the opening minutes of the second half. Alabama continued to pull away and eventually took a 48-46 lead after a Rylan Griffin 3-pointer at the 9:19 mark of the last half.
Alabama then capitalized on a 15-4 run to hold a 63-55 lead in the closing minutes. The Bulldogs came close to 66-63 in the final seconds but couldn't level the game with final possession. Shakeel Moore had to force a three with two seconds to go and his shot was blocked.
"We had a game that was required for that situation and everyone knew what we were going to run," Jans said of the final possession. "We obviously didn't do it. That wasn't the set we wanted to run and we had a man in the wrong place and it became a mess.
"Hopefully I won't be stubborn (by not calling a timeout) and I won't get into that situation again. But I've won so many basketball games like this when the court's broken and everyone's a mess. I apologized to her after the game. I know the timeout crew will be mad at me."
Mississippi State jumped out to a quick 10-2 lead after a Davis jumper at 15:55 at halftime. The Bulldogs continued their offensive rhythm in the first half, leading 24-14 with nine minutes left.
Alabama used a 7-0 run to reduce the deficit to 24:21. But the Bulldogs responded with a 10-3 run, leading 34-24 after a Jeffries 3-pointer at 2:51 at the half. The Bulldogs settled for a 36-29 halftime lead, which was Alabama's largest deficit of the first half this season.
Mississippi State shot 57% in the first half and made 2-of-6 from 3-point territory. The Bulldogs missed all three free-throw attempts, had eight turnovers, and rebounded from Alabama 18-16 in the first 20 minutes.
The Tide shot just 33% in the first half, 3 of 16 from 3-point range and 6 of 7 on the line.
"We ramped up our defense and probably didn't ramp it up as much as it should have in the second half," said Jans. "It's hard to switch spontaneously. We shuffled our protective ball covers and that threw them off balance. But they got to the edge and got to the line and took their free throws."
Next up, Mississippi State gets a break from the SEC game on Saturday to host TCU No. 11 at the Humphrey Coliseum at 3:00 p.m. It is part of the SEC/Big 12 Challenge while the state of Mississippi also honors the 60th anniversary of The Game of Change.
"We're not here to play close and that's just not the way it is," said Jans. "We are here to win. These kids are upset and disappointed, and so are we all. We need to regroup and put together a plan for a TCU team that resembles Alabama in terms of thrust, speed and talent. Hopefully the crowd will come out and support us."