March 2023 marks the 25th anniversary of Craic Fest, New York's brightest annual celebration of Irish film and culture.
Like many of the best New York stories, New York's long-running Craic Film and Music Fest began with a chance meeting.
In 1998 festival director Terence Mulligan, then a doorman in town, met award-winning director Jim Sheridan (My Left Foot, In The Name Of The Father) at a club.
When Mulligan made his recording, he suggested the idea of ​​starting an Irish film festival in the city, and Sheridan was surprisingly receptive. In fact, he remains an honorary board member of Craic Fest to this day.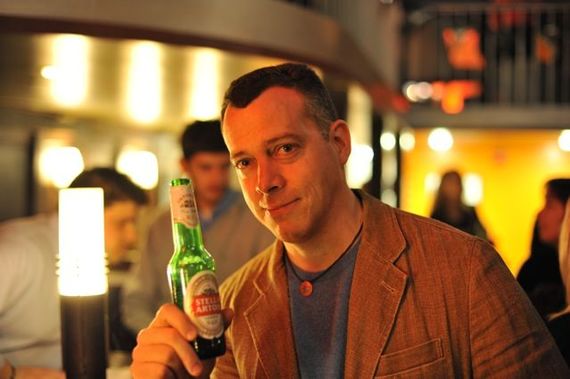 3
"I had a vision in mind when I met him and I just shared it," Mulligan tells IrishCentral. "He was one of the first to come on board and he immediately understood what the vision was and what I wanted to do."
2023 marks the 25th anniversary of Craic Fest, meaning it has all the major historical changes like 9/11, the Blackout, the Iraq War, the Lehman Brothers bankruptcy, Hurricane Sandy, Donald Trump's presidency and Covid- 19 survived to name a few.
It's no small feat to keep a signature arts event going through any sort of upheaval, so credit where it's due, but Mulligan still prefers to celebrate its many festival partners, like Sheridan.
Sheridan was a remarkably effective volunteer board member, Mulligan says. "He's a dynamic guy, he's helped us shape the festival's cultural identity, which we didn't see from the start, but over the years I think having him on board has really made us better as a festival to have."
This year, the film portion of the festival runs March 2-5 at the Village East Cinema. The opening film on Thursday March 2 is the New York premiere of a new documentary about one of the brightest stars Irish cinema has ever produced, legendary actor – and Limerick man – Richard Harris.
In The Ghost of Richard Harris, his sons, led by actor Jared Harris, explore their family life with their famous father, and along the way, the film reveals that there was much more to Harris than his image as the Prince of Hell.
He was not only a powerful film and stage actor, but also a successful singer and published poet, the film reminds us. Actors including Russell Crowe, Vanessa Redgrave and Stephen Rea are all attending to remember the man they knew, and the film's director, Adrian Sibley, will attend the screening tonight, where he won the Oscar nominated director Jim Sheridan will be speaking as a special guest. Tickets include the film and an after-party at Bar 13 (the party takes place right after the screening sponsored by Stella Artois).
On Friday, March 3 at 7:00 p.m. at the Village East Cinemas, the festival features actress and writer Siobhan Fallon (Saturday Night Live, Forrest Gump) in Shelter in Solitude, which she describes as an American faith-filled country western describes. Prison love story told during the Covid period.
Shelter is the story of a wannabe country singer and her unconventional relationship with a death row inmate, and along the way the film offers some social commentary on the truly inhumane conditions of America's prison system. If a determined, uneducated woman can bring humanity into the system, the film asks, why can't the government?
Star and author Siobhan Fallon will attend the screening followed by a question-and-answer session, including an after-party at Bar 13.
The closing film on Saturday, March 4th at 7:30pm features award-winning actor John Connors in Black Guelph. For the brave Dublin-based writer, actor and director, it's yet another deep dive into the heart of Irish darkness.
In the new film, he explores how unresolved and unresolved generational trauma has shaped so much of our recent history, this time courtesy of one-man crime wave Kanto, a petty drug dealer trying to get off the streets whose father has long been absent is Cormac, an industrial school survivor who returns home seeking forgiveness and reconciliation.
"It was written and starred by Connors, but it also stars aspiring actor Graham Earley, who plays Kanto, and his reconciliation-seeking father, Dan, who is played by Paul Roe," says Mulligan. "It also has the current Irish social and political scene as a backdrop and then Connors is at his best." Tickets to Black Guelph also include the after-party at Bar 13.
For Craic Music Fest, which will also feature live performances and more, Mulligan wanted to celebrate the last 25 years while having fun, because that's what Craic Fest is all about.
"It's a fun festival, but it's also cultural. So how do we marry these things? Well, John Connors has a huge following here in New York, so he'll be MC tonight. He's a performer and a natural on stage."
"And then we have local musician Brendan O'Shea, a veteran of the New York music scene since the 1990s. I've also reached out to writer and actress Siobhan Fallon, who will be stopping by that evening and sharing a few stories. And there will be some surprise guests that I can't mention but I will say we have a music guest on the rise in Ireland."
"We all also have rising comedy star Katie Boyle, known for her popular podcast, The Shift. She'll be doing a short set and it's great to have someone young and up and coming because that's the essence of Craic Fest, a springboard for emerging talent. She will kill it."
"It's going to be an intimate show for about 100 to 150 people at the Rockwood, which is a perfect venue because it lends itself to music, cabaret, spoken word and comedy, but the focus is still primarily on the music," he tells Mulligan. The Craic Music Fest concert will be held at Rockwood Music Hall on February 24th at 7pm
3
Finally, this year they will also host the annual Kids Fleadh, which this year will feature Irish tap dancing and short films. "People with children who want a fun afternoon on Saturday, March 4 should come to the Village East Cinemas for the event, which takes place between 12 noon and 2 p.m
Did Mulligan ever suspect Craic Fest would be so alive, I ask? 25 years is a silver anniversary, and not every arts festival makes it to this milestone. "I knew we would stay here for 25 years, I'm not surprised," he laughs. "Likewise, I knew we would learn and grow, and I knew having Jim Sheridan on board was invaluable. In all that time we've really embraced the culture that comes from Ireland and that's what makes Craic Fest so special. And that's why we're still here!"
For more information or to book tickets, visit thecraicfest.com.