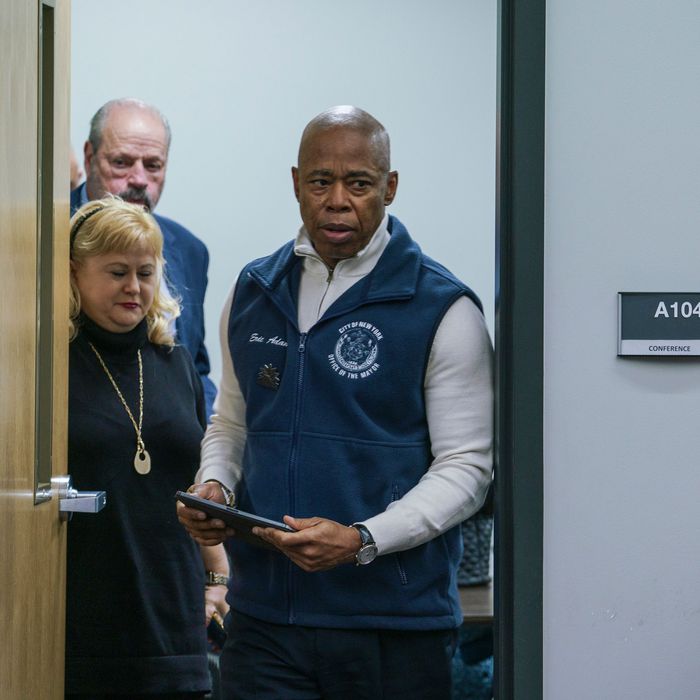 Photo Credit: PAUL RATJE/Paul Ratje/The New York Times/Redux
During a visit to the US southern border in El Paso, Texas this weekend, New York City Mayor Eric Adams said his city "can't take more asylum seekers" and that federal officials need to step up their response to the crisis.
"Last week we received 3,100. A week and a half ago we took in 3,100 asylum seekers with a migration background. And in one day over 800 – almost 840 – asylum seekers. In one day. That's a record in our city," Adams told reporters on Sunday.
The mayor urged the federal government to provide further assistance to New York and other cities that are receiving increasing numbers of asylum seekers: "What are we asking of national government today? We need clear coordination. That was the impetus for my visit here."
Adams met with the Mayor of El Paso and visited the Sacred Heart Church, which houses migrants, and a Border Patrol processing facility. He arrived just a week after President Biden visited the city on his first trip as president on the US-Mexico border.
Regarding the cost of receiving and housing asylum seekers, Adams said the cost should not be borne by local governments. "The federal government should address the entire course — what El Paso is going through and all other communities," he said. "And we need a real leadership moment from FEMA. This is a national crisis. FEMA deals with national crises. FEMA needs to step up and there should be a coordinator who coordinates everything that happens in our country with migrants and asylum seekers."
In December, the US Supreme Court ruled that Title 42, a pandemic-era directive restricting entry for asylum-seekers, must remain in effect while the court reviews the full case, but that ruling hasn't stemmed the tide.
On Friday, City Hall submitted an emergency aid application to New York State, asking for help housing 500 migrants this weekend. In a statement, Adams said the city receives more than 400 people a day on average, and estimates that New York has taken in a total of about 40,000 migrants in recent months – all of which, he says, "put New York City on the edge." urges". "
Adams said he's been communicating with other mayors across the country who are grappling with the same situation — including the mayors of Chicago, Houston and Washington, D.C. intend to address the issue this week during a trip to Washington, D.C., where he will address the US Mayors Conference.
"We're not pointing fingers at El Paso. We're not pointing fingers at Houston. We point the finger where it should be pointing. And this is our national government. It's a national problem," he said. "We need real immigration reform, and we need to have a short-term solution in place immediately to ensure the course of this doesn't fall on our local cities."