---
By Ted PankenIJanuary 24, 2023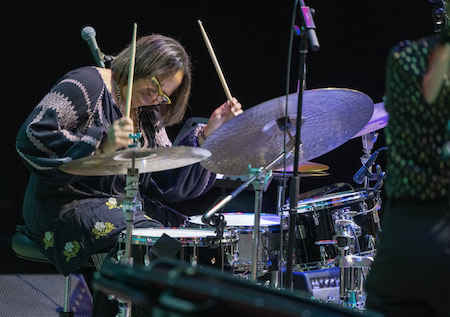 After a two-year hiatus imposed by the COVID-19 pandemic, New York's Winter Jazzfest returned to live performances on a large scale January 12-17. The festival, held in parallel with the annual APAP (Association of Performing Arts Professionals) conference, featured a global cohort of artists – some 90 bands from multiple continents. In addition to the long-running "marathons" on January 13 (36 acts on seven stages in six locations in downtown Manhattan) and January 14 (33 acts on seven venues in the Williamsburg neighborhood of Brooklyn), WJF sponsored multi-artist concerts and Showcases at Loisida's Nublu and Greenwich Village's Le Poisson Rouge and two panels at the National Jazz Museum in Harlem, including a discussion on "The Current State of Gender Justice in Jazz".
Notable side events included a four-day, 27-set "solo piano festival" co-sponsored by Fazioli at the Piano House and booked by veteran jazz impresario Jim Luce (the impressive list included just two women); showcases sponsored by various managers; 10 international groups at the Global Fest at Lincoln Center's Geffen Hall; and several inspired one-offs, including a "Gnawa meets Jazz meets Members of the David Bowie and David Byrne Bands" in the Rizzoli Bookstore.
No single journalist – not even two or three – can hear enough to make the whole process meaningful. But as a general observation, WJF's schedule reflected its institutional commitment to racial, gender, and stylistic diversity and inclusion, with concerts by practitioners, mostly young, representing nearly every jazz genre and subgenre, with the exception of the so-called "straightahead," an odd omission in New York, where the canons that make up the jazz continuum, nurtured by living masters of the idiom, intersect daily with multiple permutations of an aesthetic underpinned by Ornette Coleman's mantra "tomorrow is the question".
An exception was the well-attended opening concert at City Winery, curated by Terri Lyne Carrington to celebrate their recent release New standards: 101 lead sheets by female composers (Berklee Press) and the excellent parallel CD New STANDARDS Vol. 1, which includes 11 scintillating renditions of the tunes it contains. Carrington convened an all-female or binary octet, including the seven awardees of the inaugural 2022 Next Jazz Legacy grant, who were followed by 14 accomplished improvisers (10 female) in various ensembles to perform two dozen more songs from the book.
Neither unorthodox instrumentation (two trombones, two guitars, acoustic piano, Korg synth organ, acoustic bass, trap drums) nor a booming but muddy mix could deliver Next Jazz Legacy's varied, well-executed four-tune set (Emily Remler's Blues For Herb, Nubya Garcia's The Message Continues, Cassandra Wilson's Broken Dream and Bria Skonberg's Villain Vanguard). City Winery's sound crew ignored the issue until Michele Rosewoman spoke up midway through the first set of the Main Event, before playing her "The Thrill Of Real Love" with a quintet. Rosewoman's solo was muted, but Veronica Leahy's cascading soprano solo and Tia Fuller's stentorian alto declamation were not. The sound was clearer at the end of the set as Rosewoman performed Melba Liston's monastic ballad "Just Waiting" after Angelica Sanchez and Helen Sung trioed "Quick Tipper" and "Chaos Theory" with the great "Next Jazz Legacy" drummer Ivanna Cuesta had played. Gonzalez and loyal bassist Rahsaan Carter.
Singers Michael Mayo, Sara Serpa and Devon Gates followed, supported by pianists Julius Rodriguez, Carter and drummer Tcheser Holmes. Perhaps influenced by Esperanza Spalding, Gates, who had played the bass with authority and charismatic joie de vivre throughout the Next Jazz Legacy portion, built a rousing, stately bassline to complement her vocals on "Don't Wait." Serpa's diaphanous soprano enlivened her Brazilian "Primavera", Mayo nailed Gretchen Parlato's "Circling" with aplomb and grace; Gates accompanied him on an exuberant rendition of Abbey Lincoln's classic Throw It Away; The three singers made a joyful noise on Luciana Souza's "At The Fair."
An "Alt Madness" segment followed, starring Fuller, Leahy and Caroline Davis, driven by Sung, Gates and Holmes. Each projected their individualism onto "Spank," a post-Tony Williams line by Cindy Blackman, then parted ways to play originals. After a sizzling Fuller-Holmes duo on "Queen Intuition," Leahy and Angelica Sanchez joined the fray with Leahy's gradual soaring "20/20," which highlighted the composer's harmonic erudition and impeccable soprano saxophone intonation. Davis upped the ante with the Coltrane-esque "Kowtow," gradually increasing the intensity to heavenly heights with circular breathing and plaintive tone. The three altos reunited to tackle Patrice Rushen's burner "Shortie's Portion" – Fuller swinging wildly, Davis birdlike, Leahy dancing through the changes.
Time was short for the last group: Carrington (who had spent much of the evening playing elsewhere with Jen Shyu) with pianist Kris Davis, bassist Linda Oh and guitarist Mary Halvorson (who was making her debut played with Carrington and Oh). With efficient, unwavering creativity, they presented "Rounds" by Marilyn Crispell, "Sympodial Sunflower" by Davis, "Heartdrop" by Halvorson, "Ten Minutes To Closing" by Oh and "Samsara (For Wayne)" by Carrington.
Two nights later, the Jazz Gallery hosted the second of two concerts for Kris Davis' Pyroclastic label (night one had the WKF imprimatur). The procedure showed everything that jazz can be around 2023. Bass maestro Eric Revis began with an imaginative quintet (Bill McHenry, tenor; Darius Jones, alto; Davis, piano; Chad Taylor, drums) that well suited five "Mingus with a Twist" tunes from several of his earlier recordings . The evening ended with brilliant percussionist Patricia Brennan interacting with a world-class unit (Kim Cass, bass; Marcus Gilmore, drums; Mauricio Herrera, congas and batá) whose five rhythmically exciting compositions piggybacked on ideas from innovators of the '60s Walt Dickerson and Bobby Hutcherson seemed to come across – they used the vibraphone through various electronic filters to create otherworldly shapes and tones within the flow. DB
---
December 13, 2022 3:52 p.m

Need additional gift ideas for the jazz fan on your shopping list? Check out DownBeat's best albums of 2022.

Author Richard Koloda has spent two decades researching this extension of the legend of free jazz saxophonist Albert Ayler.

December 13, 2022 12:15 p.m

If you consider what to buy those who find it impossible to buy them (guilty as charged), your loved ones can't go wrong…

New York City shaped the motifs that run through Basquiat's work. His pieces are shown here King Zulu (left) and Dog bite/axe for grinding.

December 6, 2022 12:35 p.m

Jean-Michel Basquiat's bold and challenging images have evolved from their origins on the streets of New York to…

Gretchen Valade

January 3, 2023 12:45 p.m

EDITORS' NOTE: As this issue of the DownBeat e-newsletter was about to be published, we learned of the passing of Jazz…

"Often the vibraphone can create this abstract, mellow mood," says Marsalis, seen here with journalist Michael Jackson.

January 17, 2023 2:15 p.m

Drummer/vibraphonist Jason Marsalis, who was in town with the New Orleans Groovemasters, took time out for a listening session and…