Snow in January? groundbreaking.
It would only really be this year. That's because we've had no measurable snowfall at all in New York City for the season that's now about a month old.
It's even more surprising when you consider that other parts of the country have simply been hit by historic storms, including other areas of the Empire State like Buffalo. But for those in the tri-state area, it was a whole different story without the white stuff.
So the question remains: When will we get snow? Not this week – but according to the extended forecast, there's a chance later next week.
There will be plenty of precipitation until this low probability next Thursday. The only problem: the precipitation comes when the temperatures are about 10-15 degrees too warm.
After a warm day hitting the 50s on Wednesday, rain will return to the area on Thursday when it will be cool, windy and wet for most of the day while highs dip into the low 40s. Friday and Saturday are looking clear and slightly warmer, but rain threatens to dampen any plans for the weekend. These showers are likely to continue into early Monday morning.
The parade of storms continues with another on the horizon on Wednesday when showers are possible and Thursday. While there is a chance of some snow, this system appears to be primarily a rain event that will be followed by much colder air.
It's too early to tell what the weather will be like next week, so stay tuned to Storm Team 4 for the latest updates.
When was the last time it took so long to see measurable snowfall in the five counties? Well, the last date New York City has ever recorded an accumulation is January 29th. That means if no snow came from that Wednesday/Thursday system (the 25th and 26th) we would likely see a new record.
If no snow falls this coming weekend (which looks very likely), it will be the second-longest time until first measurable snow falls in NYC. The January 29 record was set in 1973.
Record-Breaking NYC Winter?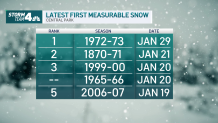 ---
First snow averages in Central Park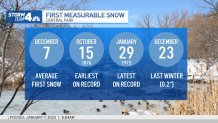 ---
Yes, we technically saw snowflakes this season, but traces of snow mixed with rain do not count for weather data collection. (It's not us, it's the National Weather Service.)
Last winter, Central Park recorded its first measurable snowfall on December 23, although it was only 0.2 inches (so you see, "trace" amounts really are nothing at all). The average first measurable snowfall in the city is December 7th, so we're already a month behind the average.
Looking ahead, it's not yet clear when this winter's first big — or even notable — snowfall will hit NYC.
According to the Climate Prediction Center, it's possible we'll see above average temperatures for the rest of the month. The same models aren't entirely definitive about what's in store in terms of precipitation.