What you should know
It looks like this winter will be a record for NYC, as no measurable snowfall is expected in Central Park for at least the rest of the month
The last date New York City ever recorded snow accumulation is January 29, which occurred in 1973
Some showers are possible on Wednesday (rain, so no snow) before possible thunderstorms on Thursday, but this system does not appear to pose a major threat for major impacts
In case you were wondering when New York City might see actual snow (after Wednesday's storms brought plenty of rain and wind but only traces of the white stuff), here's a little hint: It was mid-'50s overnight into Thursday , and it won't even drop below freezing for another 10 days.
To answer the question, don't expect legitimate snowfall anytime soon.
That means the five counties will almost certainly set a record for the very last date to see the first measurable snowfall of the season. The current record is January 29, but it sure looks like we're going to jump right past it and head straight into February with no snow to speak of.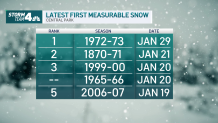 In fact, Monday's record day forecast calls for partly sunny skies with temperatures in the mid-40s. That sounds a lot more like a day in early spring than late January.
This will be part of a generally calm weather pattern beginning Thursday and extending through the middle of next week. Expect temperatures in the mid to high 40's with partly sunny or cloudy skies for this time.
A few showers are possible on Wednesday (rain, so no snow) before possible thunderstorms on Thursday. But this system doesn't appear to pose a major threat for major impacts – meaning we could end up with the first weekend of February without significant snow. However, stay tuned to Storm Team 4 for the latest updates and see if anything changes.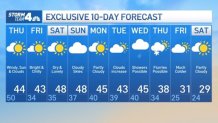 In a winter when historic snowstorms ravaged parts of the country, including other areas of the Empire State, NYC was noticeably stripped of the white stuff. Deprived is perhaps too light a term considering we haven't seen any measurable snow at all – and we're already well over a month into the season.
Wednesday looked like the day that could change everything, but any snow that fell in the city turned to rain in the afternoon, leaving only a trail of snow.
The last date New York City ever recorded an accumulation is January 29, which occurred in 1973.
---
First snow averages in Central Park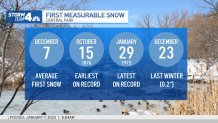 ---
Yes, we technically saw snowflakes this season, but traces of snow mixed with rain do not count for weather data collection. (It's not us, it's the National Weather Service.)
Last winter, Central Park recorded its first measurable snowfall on December 23, although it was only 0.2 inches (so you see, "trace" amounts really are nothing at all). The average first measurable snowfall in the city is December 7th, so we're already a month behind the average.
---