Galactic's January has been a little busy. Within the first three weeks of 2023, the New Orleans funk band have traveled to Cuba, released a new EP packed with collaborations and are en route to New York City for a five-day residency at jazz club Blue Note.
But with 10 shows lined up in legendary Greenwich Village, the residency gives Galactic the opportunity to do something a little different along the way, says bassist Robert Mercurio: just sit still and relax for a minute.
"We've never played that many nights in a row, and we've rarely — if never — played in an environment like this, in this small, cozy club," says Mercurio, whose band is approaching nearly 30 years of consistent touring. "Rather than do a big East Coast tour, we said let's camp out in New York and take a different approach. When this offer came, the boys were thrilled."
"I think it's been hard for a lot of bands coming out of the pandemic, we've gotten a little bit more used to being at home," he adds. "We did a national tour in 2022 but the idea of ​​not being away that much is appealing to everyone [in the band]."
In the Blue Note, Galactic – Mercurio, saxophonist Ben Ellman, drummer Stanton Moore, guitarist Jeffrey Raines and keyboardist Richard Vogel – along with their favorite singer Anjelika "Jelly" Joseph and trumpeter Eric Gordon will delve a little deeper into their catalogue . Mercurio says they'll be tapping into material that might not work in front of the 1,000-person rock clubs Galactic is used to but could end up in the 200-seat Blue Note. And each night, a guest will perform: acclaimed saxophonist James Carter, pedal steel guitarist Robert Randolph, rapper and singer Matisyahu, and trumpeter and fellow New Orleans native Nicholas Payton.
It's no news that Galactic enjoy collaborating both live and on recording. The band's nearly 30-year material is filled with guest artists, notably vocalists such as Macy Gray, Big Freedia, Mavis Staples, John Boutte, Maggie Koerner, Jelly Joseph and their longtime frontman, the late Theryl DeClouet.
And their new EP "Tchompitoulas" is no exception. The funky, eclectic six-song recording was released on January 20th. Alongside Joseph and Gordon, the EP features Afro-Cuban musician Cimafunk – who has recently developed a New Orleans fan base – trombonist and singer Glen David Andrews and rapper Eric Biddines.
"Galactic's collaborative spirit always leads to really great friendships and connections," says Mercurio. "It just sort of gets us out of our bubble."
Anjelika "Jelly" Joseph is the center of attention
Earlier this month, Cimafunk invited Galactic, Mannie Fresh, Trombone Shorty and student musicians from the Trombone Shorty Foundation to Cuba for a five-day cultural exchange. It was a similar journey to fruitful exchanges in 2019 with Tank and the Bangas, Trombone Shorty and The Soul Rebels.
In Cuba, Galactic met with local musicians, worked with school children just beginning to learn an instrument and played a rooftop show in old Havana. "It probably wasn't a place we would normally play because the space on that roof was small, but man, it felt magical," says Mercurio.
In February, Galactic will play Jam Cruise 19 and will return to New Orleans on February 18th and 20th for shows at Tipitina's. Visit galacticfunk.com for more information and their new EP.
---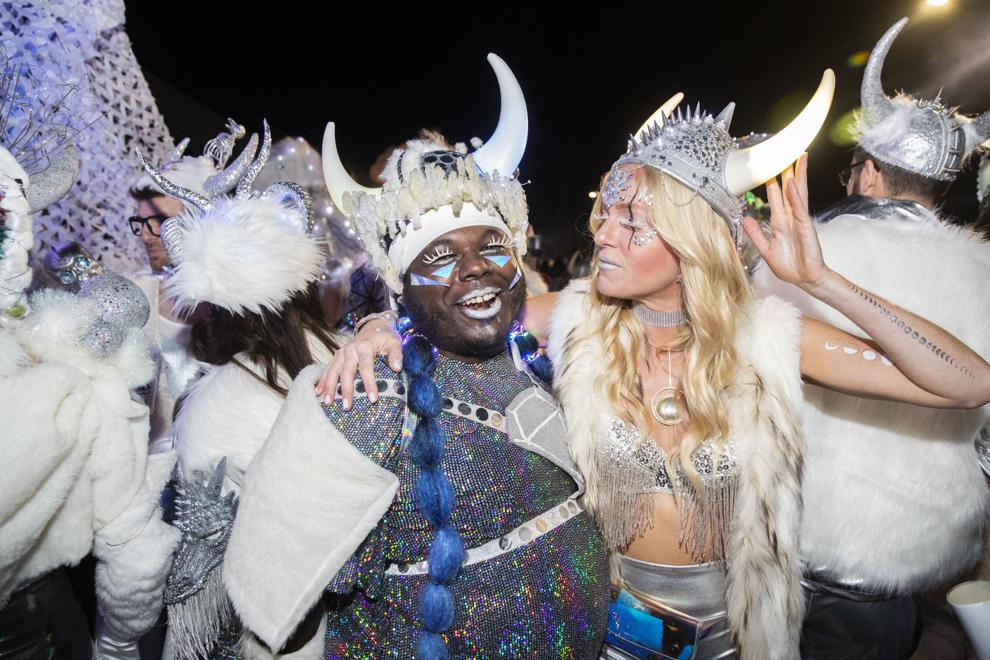 More than 110 subkrewes will participate in this year's intergalactic Krewe of Chewbacchus parade.